Dr. Ranjit Singh Sabharwal Chair in Sikh and Punjabi Studies Established at California State University, East Bay
The first endowed chair in Sikh and Punjabi Studies in the California State University system has just been established at CSU East Bay, named for Dr. Ranjit Singh Sabharwal, a leader in the East Bay Sikh community who taught mathematics at the university since 1968 and who passed away July 23, 2006 at the age of 81.
"I'm very proud to be part of this collaboration between our university and the Sikh community in creating the endowed chair in Sikh and Punjabi studies," said CSU East Bay President Mohammad H. Qayoumi. "Not only are we creating an important cultural and academic resource, but we're also honoring Dr. Sabharwal, who for so many years was a beloved member of this university."
Sabharwal was instrumental in founding the Sikh temples in Fremont and Hayward and watched them thrive as the Bay Area Sikh community grew from 20 families in the 1960s to more than 20,000 families. "My father was always community-minded and also keen that we maintain support for education as well," said his son, Paul Sabharwal. "He used to say that 'the university is the temple of education.'"
In 2003, the professor endowed the Sabharwal Family Scholarship Fund for CSUEB mathematics students. But that was just the beginning of his plans to connect the Sikh community with higher education. As a way to preserve Sikh and Punjabi traditions for future generations and to further understanding among non-Indians, Sabharwal dreamed of endowing a chair at CSUEB to explore the language, culture, politics and religion of his homeland.
"My father was a visionary leader on raising private support from the community," said Paul Sabharwal. "He was optimistic that his vision would become reality through the support and generosity of the Sikh community."
After his father's death, the Sabharwal family, the Palo Alto-based Sikh Foundation and members of the Sikh community raised $500,000 to endow a chair in his honor. More than 300 people have contributed, with the donations ranging from small amounts to exceptionally generous amounts. This only happened because the members of the Sikh community knew and respected his father for his generous and tireless efforts in serving the community, said Paul Sabharwal. This effort will fund the first endowed chair at CSUEB.
Endowed chairs provide a supplemental source of income to support the teaching, research and community outreach of a faculty member appointed by a university. Such endowments are important in attracting new faculty and students.
"I want to thank the Sabharwal family, the Sikh Foundation and all the generous contributors who are carrying forward Dr. Sabharwal's dream of creating this endowed chair," President Qayoumi said. "He believed that such a sharing of knowledge and language could only further understanding and peace. We are all dedicated to achieving those noble goals."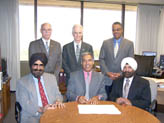 Sitting, from left: Narinder Singh Kapany, Chariman, Sikh Foundation; Cal State East Bay President Mohammad Qayoumi; and Paul Sabharwal, son of Dr. Ranjit Singh Sabharwal. Standing, from left: Bob Burt, CSUEB vice president for University Advancement; Michael Mahoney, CSUEB provost and vice president for Academic Affairs; and Benjamin Bowser, interim dean of CSUEB's College of Letters, Arts, and Social Sciences.


Dr. Narinder Singh Kapany, widely acknowledged as the "father of fiber optics," established the first North American chair in Sikh Studies at UC Santa Barbara in 1998. Kapany is the founder and chairman of the Sikh Foundation and was a close friend of Professor Sabharwal, earlier a trustee of the Sikh Foundation. Through the foundation, Kapany is a tireless advocate for the promotion of Sikh scholarly journals, books, art exhibits and connections to universities. The foundation has also established Sikh chairs at UC Riverside and UC Santa Cruz.
These education projects are an important way for Sikhs to ensure that younger members of their community know their heritage. He also sees education as a way to promote tolerance for those who follow Sikh traditions.
"We feel education is an important way of building understanding," Kapany said.
The College of Letters, Arts and Social Studies will begin recruiting for a professor to fill the endowed chair in the next academic year, said interim Dean Benjamin Bowser. The college will begin offering interdisciplinary courses in 2008 once a professor has been hired and a curriculum established.
"The courses will be a concentration of studies about a people and part of the world we know very little about," said Bowser. "For education, business and government, this is an important part of the world. We need people who can represent the United States and do business there. This gives us an opportunity to train students who will have an impact nationally."
---